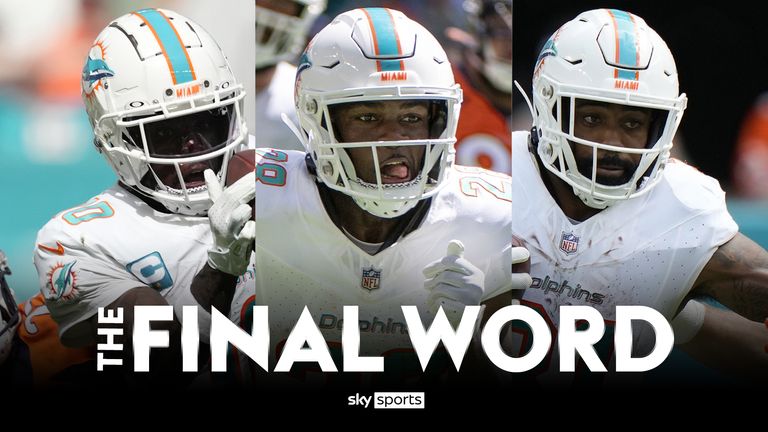 You never know quite what you're going to get on NFL Sunday and that was certainly the case in Week Three – it had a little bit of everything…
A record performance from the Miami Dolphins, an upset win for the Arizona Cardinals, we saw a New York Jets fan lose his teeth in the middle of a rant at his own team and then Taylor Swift cheering on the Kansas City Chiefs.
1) Miami's historic day
Just a historic performance, I never thought I'd see the day where a team put up 70 points and gained 726 offensive yards. Miami did that in a 70-20 win over the Denver Broncos, it was a win that was all about speed. Speed allows coaches to look smarter, it allows defenses to look worse than they actually are, and the Dolphins had speed all over the place.
The top five ball carriers in terms of MPH reached this year in the NFL are all Miami Dolphins; Tyreek Hill, Raheem Mostert and De'Von Achane were all outstanding against the Broncos. They've got to stay healthy, but if they can keep those stars upright and, importantly, quarterback Tua Tagovailoa, then the Dolphins will be in the Super Bowl conversation.
2) Stroud's bright future in Houston
I thought CJ Stroud was excellent again as he helped Houston pick up their first win of the season against Jacksonville, 37-17. Stroud has now thrown for 906 yards, which is the third most for a rookie in his first three games, and has also gone 121 straight passes without a pick. There was some doubt around Stroud on Draft weekend but I think he's answering those questions. He's proven himself to be worthy of that second overall pick and I think Houston's future will look brighter over the next decade with Stroud at the helm.
3) Love's Lambeau bow
It wasn't great from Jordan Love in the first half against the New Orleans Saints, and there was a probably lot of pressure. It was a home opener, this has been Brett Favre's team, Aaron Rodgers' team for the past 30 years and now it's Jordan Love taking centre stage and down by 17. There's a youthful exuberance about the Packers now and I think we saw that with Jordan Love.
He ran for a touchdown, threw a good two-pointer and the game-winning touchdown was perfectly delivered to Romeo Doubs, so there is something there for the Packers. There is a brightness about their game.
They couldn't, could they? They couldn't go from Favre to Rodgers to another great quarterback; only time will tell.
4) Frustration in Minnesota
Let's give some credit to the Chargers first for finding a way to win that game, but the Minnesota Vikings must be frustrating their fans. They're now 0-3 in one-score games after going 11-0 in such games last year. They are shooting themselves in the foot: poor fundamentals, ball security, making simple catches.
The final drive when they let 24 seconds tick off the clock before they snapped the ball again, I think that was a factor in Kirk Cousins rushing his pass into the end zone which was intercepted.
They were a decent team last year that found a way to win; at the moment they look like a bad team finding ways to lose. A reminder that the margins in the NFL are fine indeed.
5) Niners firepower
I want to go back to Thursday in Week Three, when the San Francisco 49ers rolled to a 30-12 win over the New York Giants. That was their 13th regular season win in a row. Brock Purdy was very good again and Christian McCaffrey always comes to the fore. He has now scored a touchdown in 12 straight regular season games for the Niners to tie a record set by the great Jerry Rice.
The breadth of their talent is amazing: it was Brandon Aiyuk who was their leading receiver in Week One; Deebo Samuel led the way in Week Two; in Week Three against the Giants it was George Kittle. I'm not sure who you gear up to stop on San Francisco's offense, and it's why they continue to stick 30 on the board every time they step on the field.
Player of the Week – De'Von Achane, RB, Miami Dolphins
It's hard to get away from the Miami Dolphins given this historic performance, so I'm going to go De'Von Achane.
He had 18 carries, 203 yards, 11.3 yards per rush, two touchdowns and four catches for another two touchdowns.
It's just a rookie's coming out party. Team him with Raheem Mostert and Tyreek Hill and the Dolphins will present a 49ers-like problem – who do you stop in Miami?
Play of the Week – Tua's shovel passes
I'm going back to the Dolphins for Play of the Week, and there were actually two passes, no-look passes from Tua Tagovailoa, right-hand passes for the left-handed quarterback. Little shovels to De'Von Achane that resulted in touchdowns.
Mike McDaniel is proving himself to be unstoppable at the moment, he was certainly happy to send a message to Miami's ownership that they were right to go with him in the end and not Sean Payton.
Those plays were created and only Patrick Mahomes and Kirk Cousins had more right-handed touchdown passes than Tua Tagovailoa in Week Three – not bad for a left-handed quarterback.
Coach of the Week – Jonathan Gannon, Arizona Cardinals
I think he surprised a few people. The Cardinals were very competitive the first two weeks of the season, considering people thought they might be tanking and trying to get the first pick in the Draft next year. They were very competitive but then it was expected to get tough against the Dallas Cowboys. What do they do? Go and beat the Cowboys 28-16.
They rushed for 222 yards and two touchdowns, and they're doing this with Josh Dobbs at quarterback as well so there's definitely something to Jonathan Gannon. It just shows we have to let these games play out before we rush to judgement on teams, players and coaches.
On my radar… Sean Payton
On my radar is Sean Payton of the Denver Broncos. It didn't take long for the mask to slip. He was getting stroppy with the media, refusing to answer questions after Sunday's 70-20 loss to the Dolphins and he's 0-3. Russell Wilson is playing a little bit better but not producing the wins.
You don't give up 70 points and more than 700 yards on offense without quitting on a game, so Sean Payton has got to address that within his own locker room, even if he doesn't want to address it with the media.
This was karma. This was a coach who called out Nathaniel Hackett for doing one of the worst coaching jobs in NFL history. Well, Sean Payton has just served up something historic and for all the wrong reasons. He's on my radar, Russell Wilson is on my radar, the winless Broncos are on my radar.
Week Four in the NFL begins on Thursday night when the Detroit Lions visit the Green Bay Packers – live on Sky Sports NFL from 1.15am in the early hours of Friday morning.