Former Wallabies international and Rugby Union Players' Association boss Justin Harrison has offered his take on today's loss.
He says it's time for a serious review of Rugby Australia and two decades of failures leading up to Monday's record defeat.
"I think it's important that we don't get distracted by the emotion of one isolated event that's going to be very easy to hang things on," he explained.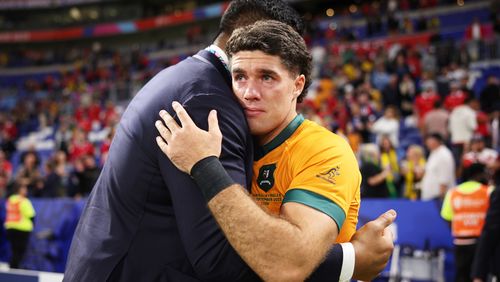 "Let's have a look at what we need to do in Australian rugby. We have significant governance reform that is needed to be undertaken. We have resource allocation that needs to have a waterfall effect to get to the community game.
"We understand that there are a series of events that have contributed to this defeat today, which from anyone who is involved in Australian rugby, is not acceptable. 
"Let's have a look at the list of things, because it is a list. For us to concentrate on one or two things that have happened in the last week and not look at the culmination of 20 years of missteps, that is the result of 20 years of missteps right there. 
"Let's concentrate on getting a helicopter view and all of us leaning in and finding out who's been culpable and how do we fix it."