Top seed Iga Swiatek pulverised Wang Xinyu 6-0 6-0 with a flawless display to stay firmly on course to successfully defend her French Open title and fire a warning to her rivals.
Swiatek, aiming to win her third trophy in Paris in five years, showed no weaknesses as she cruised into the fourth round with a perfect performance.
"For sure, I am happy. It was a very strong performance from me and I was happy I was disciplined and took care of everything," Swiatek said.
"Every point is important for me and at the highest level every point matters," the 22-year-old world No 1 added. "You always have to be kind of disciplined.
"I am going to use that skill later when I have tight matches."
The Pole wasted little time in breaking the Chinese world No 80 three times to seal the first set in 28 minutes.
Wang's strong forehand was supposed to be a major weapon but the Chinese player piled up a dozen unforced errors en route to the first of two bagels.
Swiatek, who also managed the double bagel feat in Rome last month, refused to be drawn into Wang's powerful rallies.
She completed the memorable feat on her first match point, ending Wang's ordeal after 51 minutes.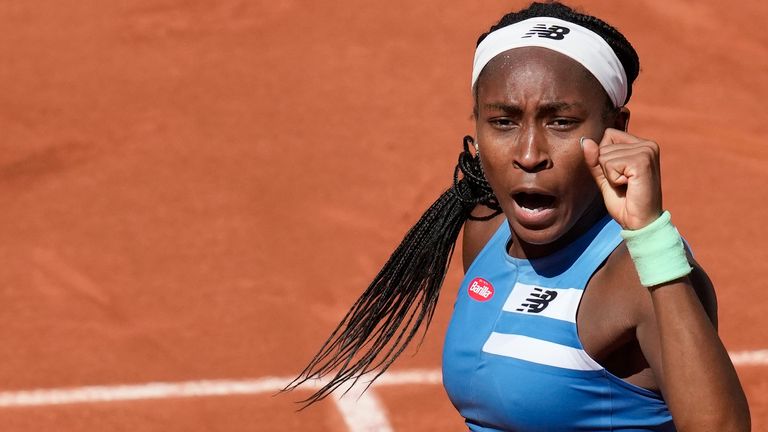 Last year's runner-up Coco Gauff overcame a shaky start to end fellow teenager Mirra Andreeva's run with a 6-7 (5-7) 6-1 6-1 victory.
"Mirra, she's super young and has a big future for her. I remember when I was here as a 15-year-old, she has a look to lot forward to," said American star Gauff.
"In the first set, I had chances, we traded breaks and overall I knew the game plan so I tried to execute it in the second and third sets. We practised together earlier (before the draw) so I'm sure she picked up things from my game and I picked things from hers."
Champion performance
Iga Swiatek is the third female player to register four 6-0 sets in the first three rounds of the Roland-Garros in the Open Era after Mary Pierce in 1994 and Martina Navratilova in 1985.
The Russian is undoubtedly a player of huge potential and she more than matched Gauff during a high-class first set full of fierce shot-making.
The 19-year-old, who was facing a younger opponent for just the third time, served for it at 5-4 but Andreeva broke back and then converted a lead in the tie-break.
There were moments of youthful petulance from Andreeva that she will need to stamp out, particularly an incident late in the tie-break when she swiped a ball angrily into the crowd.
She earned a code violation but was fortunate she did not hurt a spectator, which could have seen her defaulted.
"Right after I thought that it was a really stupid move from me, because it was not necessary to do that," she said. "It was really bad what I did. I had thoughts like this (a potential default), but he just gave me a warning."
Andreeva dreaming of playing at Wimbledon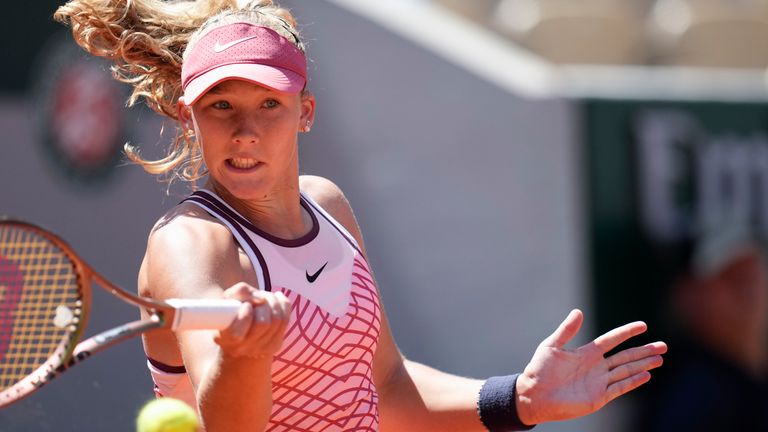 Andreeva is limited in the number of tournaments she can play because of her age and expects her next event to be Wimbledon qualifying – providing her UK visa comes through in time.
Although Russian and Belarusian players are allowed to compete this year, Australian Open champion Aryna Sabalenka has also spoken about a delay in receiving her visa.
If it was not for her nationality, Andreeva could have been a strong candidate for a Wimbledon wild card based on her performance in Paris.
"I didn't play on grass yet," she said. "It can be my first time. I'm excited about it because I have never tried it. So, if I can go there, we will see what I can do."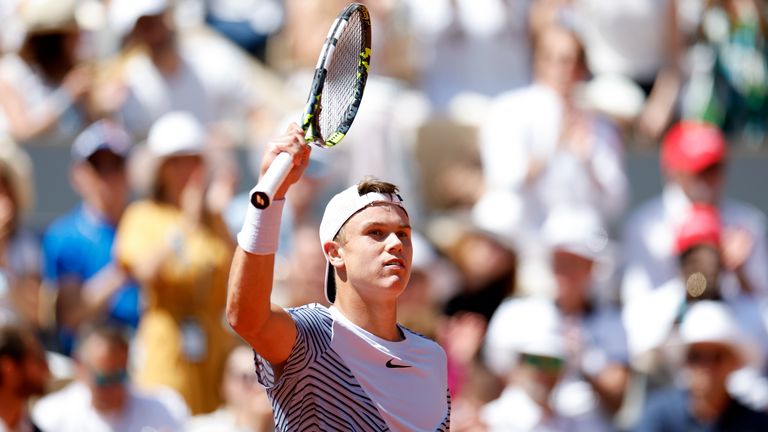 In the men's tournament, Dane Holger Rune took a step towards becoming his country's first male Grand Slam singles champion by powering past Argentine qualifier Genaro Alberto Olivieri 6-4 6-1 6-3.
"Luckily I haven't used too much unnecessary energy during the tournament so far," he said. "I'm in the fourth round and I can play better, so it's a good thing. But obviously the matches are going to get harder and harder from now so I have to step up also."
Next he faces Argentina's Francisco Cerundolo, who is through to the fourth round of a Grand Slam for the first time after upsetting eighth seed Taylor Fritz 3-6 6-3 6-4 7-5.
Ruud sends out warning to his rivals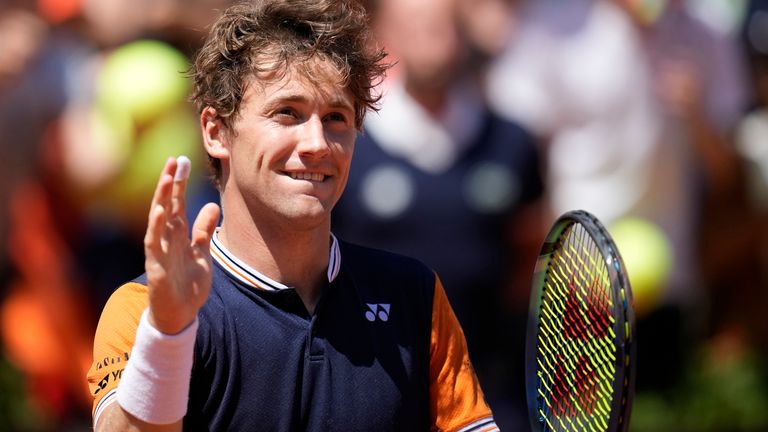 Fourth seed Casper Ruud continued to make smooth progress, recovering from a slow start to dispatch China's Zhang Zhizhen 4-6 6-4 6-1 6-4.
"My level is getting better," said Ruud. "I still feel like there are things I can improve and I can make less errors than I have done in some moments in my matches.
"So I still feel like there is a level that I haven't played yet that I can bring out, and I will need to bring out now going into the second week, for sure.
"I'm very happy with being through the first three matches. It's tough. For me this year it's been much more pressure, obviously, compared to last year."
Japan's Yoshihito Nishioka earned a 3-6 7-6 (10-8) 2-6 6-4 6-0 win over Daniil Medvedev's conqueror Thiago Seyboth Wild, despite losing his cool and receiving a code violation from the umpire.