Daniel Ricciardo has been beaten comprehensively by Lando Norris in both 2021 races so far – and obeyed team orders at Imola – but the seven-time race-winner insists there's plenty more pace to come from him
By Matt Morlidge
Last Updated: 26/04/21 11:00am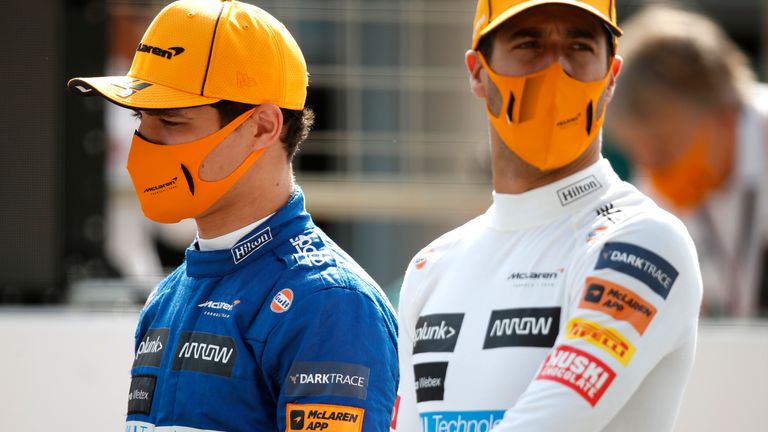 Daniel Ricciardo has admitted that it's "going to take a bit of time" for him to show his best form at McLaren, stressing that he had no issues with the team orders that helped Lando Norris at the Emilia Romagna GP.
Ricciardo, a seven-time race-winner and McLaren's big signing from Renault for 2021, has beaten new team-mate Norris in both qualifying sessions to start the season but, while he has also scored points in the races, the Australian has been by far the slower McLaren on Sundays.
At Imola, Ricciardo was hit with team orders from McLaren as he was told to let a faster Norris through. Ricciardo obliged, and the move paid off; Norris scored a podium, while Ricciardo finished a distant sixth.
Team orders so early on would often rattle a driver, particularly a more experienced one, but Ricciardo was quick to acknowledge that he was just not quick enough – and certainly does not want any friction.
"That's where I've certainly got to swallow my pride… the team were fair enough," Ricciardo told Sky Sports F1.
"I think they gave me the time required to show my pace, and it wasn't enough. I'm not going to get into any fisticuffs."
Ricciardo, the former Red Bull and Renault star, is driving his third car in four years this season and attributes that to why Norris is currently faster.
"I don't think I underestimated it, I was well aware of this when I transitioned from Red Bull to Renault, but yeah… it's I guess unfortunately just going to take a bit of time," he said.
"The season's long, it's only Race Two. Of course i want to be quicker already, but if I get to Race Seven and I look back to Race Two, I'm probably just giggling."
Expanding on just why it takes time to acclimatise to a new team and car, Ricciardo added: "Maybe in a few races time it will be fine.
"It's weird, it's kind of like some sort of muscle memory and there's still attachments to the other car and you're trying to get out of… I don't know if it's bad habits.
"I just have to keep circulating laps and understand. Obviously, Lando had a strong race and got on the podium – I think better that than him in P12 and we're not quick at all."
McLaren have made a strong start to the season, currently third in the constructors' championship ahead of expected midfield rivals Ferrari. The campaign continues at this weekend's Portuguese GP.