Patience has finally paid off for Manly who find themselves in the rare position of leading their opposition after Jason Saab opened the scoring against the Warriors.
Daly Cherry-Evans' intent to kick early all night eventually caught the Warriors out, and it's provided a spectacular try for young Saab.
Kicking from his own 20, DCE drilled a kick down the other end of the field as Saab was unleashed on the flank to chase down.
He absolutely blasted past Ken Maumalolo who had a massive head start, and it ended a no-contest by the tie Saab had put metres between he and his counterpart to find the grounding.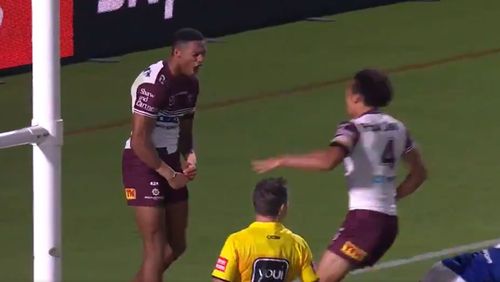 "What a foot race that ended up a one-horse race," Fox Sports caller Matt Russell said in commentary.
League icon Steve Roach added: "He's done that in a canter, he slows down."
Saab has done extensive work with renowned sprint coach Roger Fabri who believes the youngster is one of the quickest in the NRL.