Johnny Fisher's manager Sam Jones: "Anybody that has sparred Johnny will tell you the same thing – unless you're on your game, Johnny will knock your lights out. He hits as hard as I've seen anyone hit. He has natural power."
Last Updated: 28/02/21 6:29pm
Johnny Fisher hit Joe Joyce in sparring harder than even Anthony Joshua or Tyson Fury could, says his manager Sam Jones.
'The Romford Bull' exploded into the heavyweight division by twice flooring Matt Gordon in a first-round stoppage on his professional debut on the David Avanesyan vs Josh Kelly bill.
Fisher is a university graduate with a rugby background who went to Las Vegas to spar Joyce when he should have been writing his dissertation.
"Joe has told me that Johnny hits harder than anyone he has been in the ring with," his manager Jones told Sky Sports.
"Joe has sparred AJ, Fury, he has fought Oleksandr Usyk [as an amateur].
"Johnny hits harder than any of them!
"Joe says that Johnny has freakish power.
"He was Joe's main sparring partner to fight Daniel Dubois. Joe didn't go easy on him – if you do, Johnny will put your lights out.
"Anybody that has sparred Johnny will tell you the same thing – unless you're on your game, Johnny will knock your lights out.
"He hits as hard as I've seen anyone hit. He has natural power.
"He is the nicest man but is naturally aggressive – you should see the way he handles a knife and fork when he sits down to eat!
"He is naturally heavy-handed.
"If he hits somebody with his right hand, I promise they will go to sleep.
"His right hand sounds like a gunshot."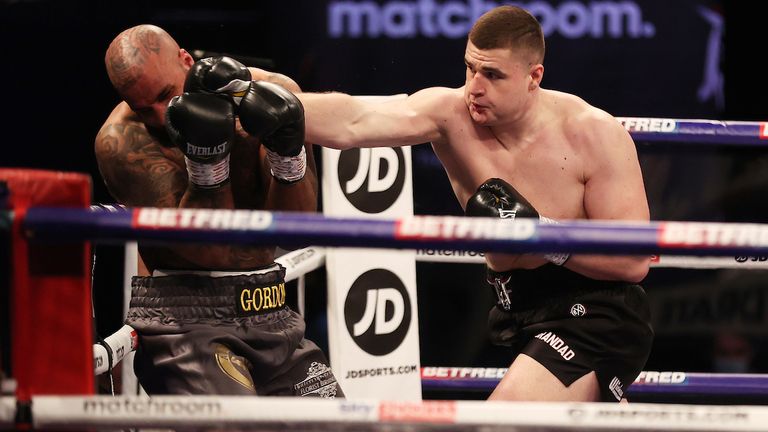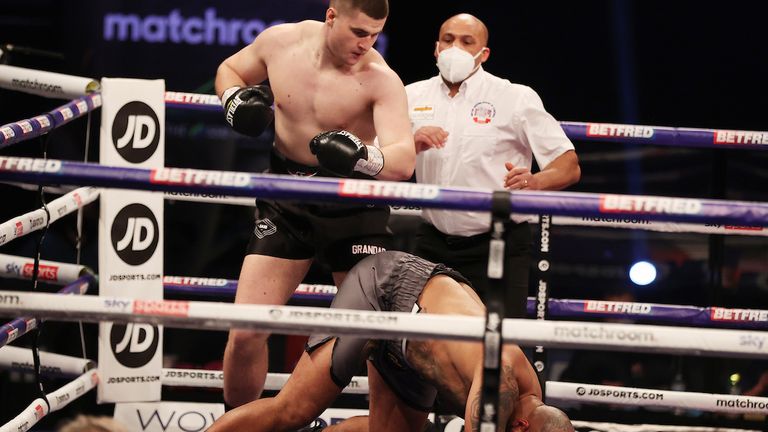 Fisher made short work of his first professional opponent but only had four amateur bouts so his progress will be "baby steps", says Jones, with five more fights hoped for in 2021 before they target titles next year.
"He's only 21," says Jones. "He has great support so this can be a really good ride.
"The way he handled himself in the ring was like a seasoned veteran – if he was a prospect from Team GB everybody would be excited.
"Johnny will move slowly. I want him to box in the USA, Europe, I want him to have as much experience as possible because, eventually, there will be some big fights.
"He has a jab, a chin, and good power so he will go far in the heavyweight division.
"I don't want to put too much pressure on him but he can go all the way, I know he can."
Fisher has earned praise from Fury
The exciting prospect has also travelled up to Peter Fury's gym to test his ring skills against Hughie Fury, a former world title challenger.
"I was impressed with Johnny Fisher. He has been up here, sparring with Hughie," said the respected trainer, who masterminded Tyson Fury's first world title win.
"He's a raw, young heavyweight, he's got a good future and he's (got) a good team behind him in (trainer) Mark Tibbs.
"I think he'll go from strength to strength. He's a good size as well. He has got some good attributes and I'm sure he'll do well.
"I did laugh though, because he commented, 'I'm just going to take my time and I'm going to box.'
"I just laughed my head off. As soon as that bell went, he was just looking to take his head straight off. I found that very amusing, to be fair.
"But I thought it was a good performance from him, bearing in mind it's his first fight. He's put a lot of weight on his shoulders, saying what he expects to do, and I thought he did very well."