New head coach of the Minnesota Timberwolves Chris Finch proves the pathway from the BBL to the NBA is clearer than ever before – it's time for the playing talent to follow.
The date was 13 September, 1997. Paul James coached his first professional game for the Thames Valley Tigers against Nick Nurse and the Manchester Giants.
The crowd at NYNEX Arena, later renamed to the Manchester Evening News Arena and today known as the AO Arena, had 10,500 northerners cheering for the home team, just to add to the pressure. James' opponent had already won a BBL Championship with the Birmingham Bullets two seasons earlier – he was cool under the scrutiny of a capacity crowd.
The intensity rose throughout four close quarters, and on the final play of the game Tony Holley scored a put-back basket to give the visitors a one-point lead as time expired. The Tigers picked up the win in the first game of the season and James began a legendary head coaching career.
One thousand games later, James was coaching another away game. This time, it was for the Plymouth Raiders, and the victory was more comfortable. Rickey McGill led the team in scoring with 18 points, including a couple of free throws late to secure a nine-point victory over the Worcester Wolves for a spot in the semi-finals of the BBL Trophy.
When re-living the memory, James told Sky Sports: "To go there and win that first game, that was a fantastic memory that will never leave me."
Meanwhile, Nurse was on the losing end, again, just two years removed from a championship. The difference being that it was his 2018-19 NBA champion Toronto Raptors, defeated by the Miami Heat as they looked to bounce back from a tough start to the season.
Their respective careers have gone in different directions since first meeting in 1997 but James' 1,000 BBL games – with a record of 585 wins, 413 losses and two draws, according to statesman and commentator Dan Routledge – is something he had always wanted.
James said: "I wanted to ply my trade in the country of my birth and do it to the highest level. That's what I'm doing and I've been very comfortable doing that.
"Going to coach in America is not something I've looked at but seeing Nick Nurse and Chris Finch, they were always very driven and did what they had to do at the BBL, and coached in Europe and the G League and now they are where they want to be, coaching in their country of birth and doing it at the highest level."
You need talent to reach the top, but it's a pretty cutthroat environment when you get there. Former Sheffield Sharks head coach Chris Finch won the BBL Trophy during James' first year, and followed it up with back-to-back BBL Cup-winning seasons.
Last week Minnesota Timberwolves head coach Ryan Saunders was fired, much to the disappointment of his friend, and NBA star, Karl-Anthony Towns.
Typically, a team will promote an assistant coach, install an interim coach for the remainder of the season, or at least wait a few weeks to conduct interviews and find the right person.
But within an hour or so of the news breaking, Finch, then an assistant with Nurse's Raptors, was installed as the new leader of the pack.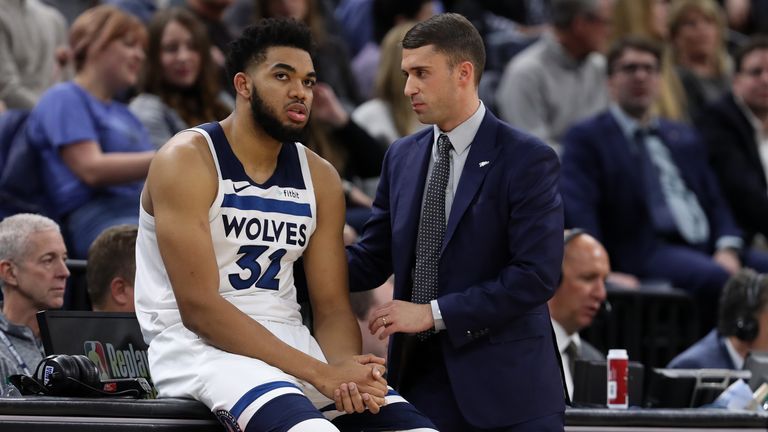 Finch left the Sharks in 2003 and coached in Germany, then Belgium, before returning to the country of his birth with the D League's (now known as the G League) Rio Grande Valley Vipers. The Houston Rockets' affiliated team was an immediate success under Finch: they won the D League Finals and followed it up with a return trip the following season.
He was then taken on as an assistant with the Rockets before moving to the Denver Nuggets, the New Orleans Pelicans and more recently the Raptors with his old BBL rival Nurse, until finally securing a long-awaited head coaching spot with the Timberwolves.
Finch believes none of this would have been possible without the BBL. He told Sky Sports: "The great thing for me about the BBL is I got the job when I was 27. I was there for six years. Unlike a lot of European leagues, we played 60-70 games a year depending on our cup competitions."
Some developing coaches go to high school or college in the United States. The focus on sport there – whether it's AAU, high school tournaments heavily sponsored by big brands such as Nike and Adidas, through to NCAA and beyond – means that there is a lot of money to surround a coach with plenty of resources, along with student volunteers who want to learn.
BBL teams probably have smaller staffs and while there are community volunteers, in a season like this year, operations are more limited and run on shallower pockets. But for coaches who want to graft and develop, this presents a unique opportunity.
Finch continued: "We played in all kinds of different scenarios like back-to-backs, and we had a very small coaching staff. We had to do a lot and prioritise a lot. It was hands-on, I was young, it was a great job and I had great support from ownership and management.
"They allowed me to try and fail, which is really what all of this is about: it's like any other growth curve, you learn more from failing than you do from succeeding. Fortunately, I was able to establish myself as a young coach and that has a lot to do with my opportunities in the BBL."
He hasn't forgotten his roots and neither has Nurse. Not only did the Raptors coach bring the man that beat him when Manchester lost to Sheffield in the 1999-2000 BBL Cup Final, but he also hired Fab Flournoy, previously of the Newcastle Eagles.
While Finch has only just got the job in Minnesota and doesn't want to rock the boat with his current coaching staff, he didn't rule out hiring other British names in the future: "The intention is to recruit great coaches wherever they come from. The NBA is like any other elite organisation: if there's talent somewhere in the world they'll find it, and I was very fortunate to get my start in the BBL."
It's not just coaches that might get a break in the NBA either. The more links the league has to the BBL, the better it is for all involved.
One example is British prospect Cameron Hildreth. Having dominated the National Basketball League with Worthing Thunder and shown out at the EuroLeague's Adidas Next Generation Tournament, he joined the Surrey Scorchers in January and hit a game-winner in his first outing in the BBL.
Hildreth told Sky Sports why joining the league is important: "The BBL is the biggest league in this country. For someone like me, being in the BBL is going to help me improve a lot. It's going to help me become a professional."
He makes no bones about having a dream of playing in the NBA and has a legitimate shot, having accepted a place at Wake Forest, one of the best basketball colleges in the United States. He is thought to be just the fourth Brit to earn a spot on a high major college programme and the first since Richard Midgley in 2002, when Hildreth was born.
Talent, hard work and dedication to the craft have made Hildreth into the player he is today. That alone has been enough to warrant scouts and coaches from around the world to take notice.
However, securing a place at Wake Forest was also helped by the fact that his uncle worked with Nurse and Finch when the duo coached Great Britain at the London 2012 Olympics. Cameron's father Danny also played for Nurse during his stint with the Brighton Bears and the pair remain good friends. So, during a routine catch-up between old pals, Cameron's name came up.
Hildreth said: "They spoke and Dad told Nick Nurse 'Cam is doing well', and he said he'll speak to someone. It turns out one is best friends with the head coach of Wake Forest Steve Forbes. That's one example of how being known in one country and you go to America, you can have contacts everywhere and can message anyone and they'll listen. Nick being from the BBL can definitely help people from the UK get exposure in different countries."
While Hildreth represents the men's side of the game, Britain's women's basketball teams have had success in recent years. Players like Temi Fagbenle, Karlie Samuelson and Kristine Anigwe have represented GB Basketball while also competing in the WNBA.
Scouts tend to focus more of their energy on spotting talent at European clubs than the WBBL, but Nottingham Wildcats guard Chelsey Shumpert hopes that more influential American links to the British scene will have a knock-on effect. She said: "I think it could potentially help the WBBL moving forward. It brings more recognition to the league and with the likes of Sky Sports trying to promote us more, the awareness will get out there."
Most American women have to play overseas to earn enough professionally and just like Paul James, the dream of playing in her home country is appealing, but Shumpert thinks the UK is an attractive place to play. She said: "I would like to play at home, just so my family can come to some of my games. But I know the WBBL is competitive and rising – it's an honour to be part of it."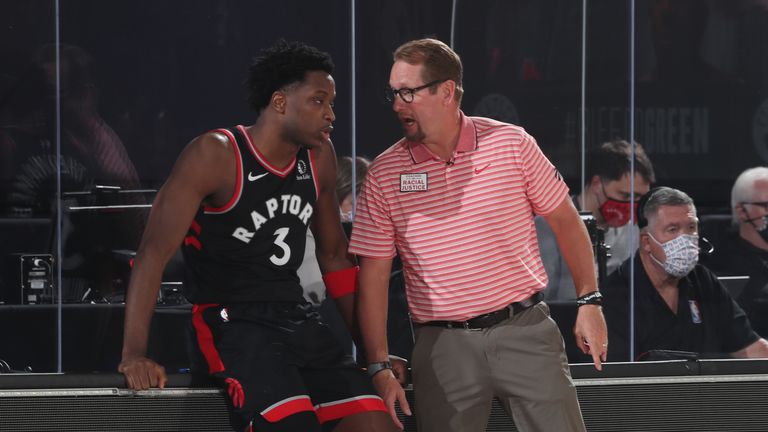 There have been British basketball players reaching the NBA ever since Chris Harris joined the league in 1955. But Steve Bucknall, John Amaechi, Luol Deng, Robert Archibald, Pops Mensah-Bonsu and Joel Freeland are no longer playing. London-born OG Anunoby is the only male Brit currently playing in the world's best basketball league, but having the likes of Nurse, Flournoy and a good rep like Chris Finch offer a beacon of hope that highlights a pathway for aspiring players and coaches.
With the men's GB Basketball team qualifying for EuroBasket, it's important to be able to see a road ahead after so many dark years recently.
Paul James has seen 1,000 games of ups and downs over nearly 25 years of coaching in this country, and he said: "There has always been the opportunity, maybe not as much as we would like, but the talent is out here. Hopefully, we'll start seeing better talent coming through and we'll start seeing people go from the BBL to Europe and even the NBA.
"These are all connections you can tap into. Anything is possible right now. The BBL is a great breeding ground."
Take note of Toronto Raptors and Minnesota Timberwolves games this season, and make sure you tune into the BBL and WBBL Trophy Finals on March 21, on Sky Sports Arena – you could see some coaches or players competing in the NBA or WNBA in the future.