American No.22 seed Jennifer Brady is well and truly the underdog in tonight's Australian Open final, with bookies rating her a $4.75 outsider against Naomi Osaka.
Tonight's match-up will be just the second in a Grand Slam between Brady and Osaka, with the Japanese star taking last year's US Open semi-final in a 7-6 (1) 3-6 6-3 win.
If Brady is to claim her first Grand Slam title, she will have to do what no woman has managed to do so far: defeat Osaka in the final.
The No.3 seed is a perfect 3-0 in Grand Slam finals, with wins over Serena Williams, Petra Kvitova and Victoria Azarenka.
Australian tennis great Casey Dellacqua has revealed exactly what Brady must do if she is to break Osaka's glittering finals streak.
"It would be an extraordinary win if Jennifer Brady could get up, and I think she can do it," she told Wide World of Sports' The Morning Serve.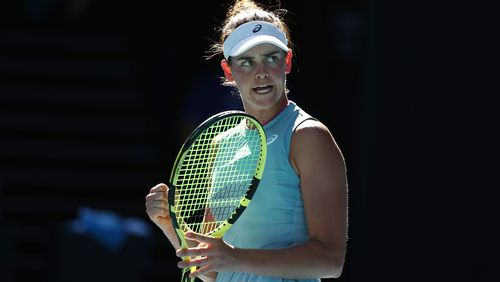 "She's got to do a number of things well against Naomi Osaka. She's got to serve well, which is a big strength of Jennifer Brady's.
"A lot of this match is going to come down to big first-strike tennis and who can get that first strike in.
"She's also going to have to use some shape on her ball to get it out of the strike zone of Naomi Osaka.
"She needs heaviness and some RPMs on the forehand to really not get it into the hip pocket of Naomi Osaka.
"A bit of variation from Jen Brady, not too many unforced errors and to get that first strike in by serving well.
"But I think we've got to factor in that it is her first Grand Slam final. There is no doubt that she will be a bit nervous, but if anyone is ready for this moment, it's Jennifer Brady right now."