Despite the strong Greek contingent getting behind Stefanos Tsitsipas at Melbourne Park, it is, in fact, Daniil Medvedev who tennis legend John McEnroe will be routing for when the pair clash in the semi-final.
Medvedev is still in the hunt for his first grand slam, having once previously qualified for a US Open final. He will also be eyeing a staggering 20th consecutive win should he emerge victorious on Friday night.
Tsitsipas once infamously described the Russian's game as boring in a long-standing feud between the pair, but McEnroe is nothing but enamored with the World. No 4's style.
"He's basically my favourite guy to watch now because he just plays old-school a little bit," said McEnroe.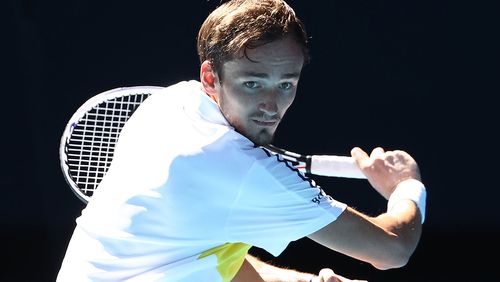 "He's strategising, he's thinking ahead. These are the types of guys that we need and that we're going to be seeing."
Medvedev, meanwhile, was just happy to be riding a wave of confidence to perhaps his first grand slam crown.
"The more you win in a row, the more it's better as a feeling," said Medvedev.
"I don't have the exact word even to describe this. I'm happy about my level in all the matches that I won, that I've played. Some matches I could say I could do this better, that better.
"But for me, the momentum, the confidence is a big part. I think you can see that once I lose it, I start to make more unforced errors and that's where my game can be a little weaker.
"I'm really happy that I managed to keep this momentum going so far, and it feels great. Hopefully, I can continue it for at least two matches."